PINK FAUN - streamers
no sound, just music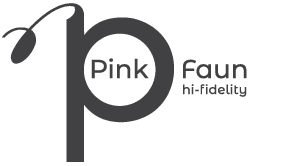 If you are searching for the utmost perfection in musical experience and listening pleasure, then please feel welcome to enter our realm of sense – ability. Dutch tailor-made high end audio. For maximum enjoyment. For the most demanding ears on the planet and beyond. We are proud to present our handcrafted high fidelity hardware and software solutions, ready to be customized and updated at your demand.
Throughout the globe, Pink Faun has gained a vast popularity amongst audiophiles who value and select only the best quality available. With our network of high end dealers we assure personal support, tailored to your wishes. Starting from our base series and working your way up to the all-time high of pure music sensation.
---
Als je jezelf wil overtuigen, maak een afspraak en kom langs en we laten je het horen.
>>> www.pinkfaun.com