Marten Parker-series speakers
– We always look for the truth in music –

Music has always been the driving force for Marten. Music is perhaps the greatest emotive art. By accurately reproducing sound, we make moments that can move you. Our speakers are for discerning listeners. Those that want to hear reality. That want to feel it in their gut.
Marten has been reproducing music for the home for two decades. Our aim is letting you relive your finest musical moments. Our speakers are proudly designed and crafted in Sweden using exclusive technology and fine materials.
Keeping it real.
We make speakers that accurately reproduce the truth and beauty of natural sound. That dream turned a hobby into a business.
It's still a strong part of the Marten ethos and steers product design and development.
In 2014, we created our own recording studio. With our speakers in mind, we designed a dual microphone studio.
Rhapsody over MARTEN Parker series speakers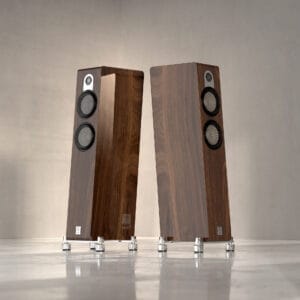 Een klassieker in wording. 
De Parker serie kent drie modellen: de Duo, Trio en Quintet.
Door de bijzonder sterke constructie, de extreme resonantie-reductie en de exclusief ontworpen pucks is de Parker-serie nagenoeg resonantievrij.
Resultaat is een kristalhelder geluidsbeeld doordat de componenten haarfijn en in harmonie op elkaar zijn afgesteld. Het typische Scandinavische design is een parel in elk interieur.
Met trots voeren we dit merk in Nederland.

Harry en Michael zijn de smaakmakers en de drijfende krachten achter RHAPSODY
Rhapsody is geen gewone winkel maar een bruisende ontmoetingsplaats waar muziekliefhebbers en audiofijnproevers graag komen en zich al snel thuis voelen. Een plek waar gretig kennis, ervaring en het laatste nieuws wordt uitgewisseld.
Voor ons staat dan ook een informele werkwijze met veel plezier, passie voor audiotechniek en liefde voor muziek centraal.
We hebben ook een neusje voor bijzondere producten en het signaleren van relevante innovaties in de high-end-wereld. Er staan altijd wel ongekende en ongehoorde producten in de winkel die je kan komen beluisteren. Je bent welkom!
• Kom langs in onze winkel om onze merken en producten live te ervaren.
• Je bent welkom op onze luistershows (houd onze agenda in de gaten of abonneer je op onze nieuwsbrief).
• Of maak een afspraak.